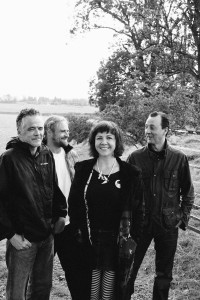 Adventurous Irish singer, flute player and composer
"Kennedy doesn't so much imbibe or inhale as swallow, whole and unadulterated, melodic and rhythmic influences from beyond her kith and kin. Delicious mixes of influences abound, without ever sacrificing musical identity."
— The Irish Times
Nuala Kennedy's singing and flute playing springs from the traditional music of Ireland and Scotland, and from the fathomless realms of her own imagination. A consummate performer with a buoyant personality, her music has been described as "unique," "evocative," and "soul-satisfying."
Nuala's concerts take audiences on a musical adventure, teetering on a fine edge between Irish tradition and whatever modern musical influences happen to cross Nuala's imagination. She melds old songs with new lyrics to give familiar songs entirely new meanings, and can then rip into a set of traditional reels that will stand your hair on end.
In any musical configuration, Nuala is at center stage with her mesmerizing vocals and a variety of flutes and whistles. As either singer or instrumentalist, she is regarded as one of the finest performers currently touring in Celtic music. Currently touring her new album 'Noble Stranger'with the eclectic quartet as featured on the record, Nuala's combined grace and rollicking sense of fun create an unforgettable experience.
Recent review quotes for Live Performance with this line up and for Noble Stranger:
Her flute playing is lucid, sweet and chilling: the hairs on the back of my neck never really  recover." Culture Northern Ireland – Live Review, August 5th
"Cheeky, dynamically textured and full of ideas, this distinctive sound is new but already fully formed." Scotland on Sunday Pick of the Week August 2012
"A flute player and composer of remarkable finesse." The Irish Times August 2012
A Flute player and composer of remarkable finesse, Kennedy places the spotlight on songs and mines their percussive qualities with a keen ear cocked for the peculiar'.