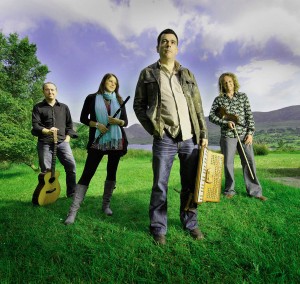 Onsdag d. 5. december
Kl. kl. 20.00
Entré: kr. 50/70
Bartof Café
Nordre Fasanvej 46     
2000 Frederiksberg
Alan Kelly – piano accordion
Steph Geremia – flute & vocals
Aalasdair White – fiddle
Tony Byrne – guitar
The Alan Kelly Gang sit firmly at the cutting edge of the traditional and world music scene. Fronted by Ireland's piano accordion maestro and with three critically acclaimed masters of their own craft in tow, they have taken global audiences by storm, impressing both music lover and critic alike. Hailed by international critics for their consummate musicianship and powerful, emotive performance, they deliver a unique and diverse perspective to the Celtic repertoire, amalgamating a musical dialogue that spans the Celtic countries, all the while with Ireland sternly at its helm. With strong dynamics, driving rhythms and buoyant harmonies, their live performances are a living, breathing thing. Uniting old with new, they breathe new life into what has been handed down from generations before. As they visit festival stages across the globe, critics praise them for their power, energy and ability to make audiences fall in love – leaving the listener with an ache and yearning that comes from hearing great music and witnessing exquisite musicians at work. In short, they will draw even the most fainthearted listener into the passion they put into the music they play.
Traditional & Contemporary Irish Music
Ireland is just the starting point for this group as they propel their audiences through the repertoire of the Celts.
Performing powerful instrumentals and beautifully arranged songs – skillfully executed and soulfully delivered – their sound is fresh and unique with strong dynamics, driving rhythms and buoyant harmonies.
"brilliantly talented, effortless and exuberant"  The Irish Times
"a drive and energy that will keep the chill out of the coldest winter night"
 FolkRadio UK
"beautiful music from master musicians…   see these guys as soon as you get the chance" Irish Music Magazine